Back in the Office!
For most people this sounds bad, but I'm so excited I can hardly stand it! I have an office on the back of our property – it used to be a garage but the former owner converted it into a studio guest house. I have a desk and a sofa, wireless internet, music and a work table. I love it out here, but it's absolutely unbearable in the summer months – the tiny air conditioner cannot keep up with 112 degree heat. Now that fall has partially arrived to sunny Arizona I can come out here and "work". (Right now that involves finishing the laundry and reading blogs, but at least I'm not stuck in the house all day.)
My mother is on vacation to Portland visiting her cousins. I am posting a picture of the top secret project for her, and I'll take it down before she gets home on Sunday. I wasn't sure about it at first, and I've ripped it out twice already, but I think this time it's a keeper. My knitting friends approved it on Wednesday night and said I only didn't like it because I was holding it too close to me. (Okay, I just took it out - sorry if you missed it.)
I've been reading and reading and reading these RAOK blogs – there are 150 people total in the group and that is a lot of reading. I am constantly amazed by the talent and perseverance of these women. And I am learning a ton – thrumming, steaking, all kinds of things I'd never heard of before.
A few things have jumped out at me as odd though. So many people are making that Klaralund sweater. Kirsten in our SnB group is also making it, and it is cute. Here's a picture if you don't know what I'm talking about: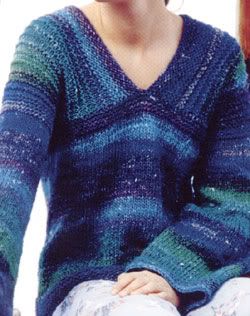 It seems like every other blog I read has a Klaralund update. How does someone get so popular?
The other thing – and I am not meaning to offend anyone – but what's up with all the cat beds? And people making them out of really expensive yarn? I must be missing something. I like cats and all, and I will consider knitting my dog a sweater, but I feel like everyone is making a cat bed.
I'm having lunch today with my mother-in-law Gloria to go over our plan for the 5th graders knitting. We have to get started pretty soon since the baby is coming. I bought the Kids Knits book and the woman was on Knitty Gritty yesterday as well. She demonstrated the single tail cast-on and it does seem like that will be easier to teach. I can't wait to have pictures of the kids to put up on my blog.
My friend Julie is due 10 days before me – she went to the doctor yesterday and she's starting to have contractions and she's a very little bit dilated! It still could be a while, but I was alarmed! We're supposed to have another month to get ready for these little people.