Single Tail Cast-On
I attempted single tail cast on yesterday when re-starting my father's vest. I think this cast on method is only meant for thicker yarn, because the Notre Dame game was almost over and I still hadn't knit my first row. Getting the needle into those stitches is hard – I wonder if it would work better with pointier needles. Then, since I am so bad at math, I ended up putting the cable pattern under the left arm instead of right in the middle. Part of my problem is that I wanted the cable pattern to extend into the ribbing (ala
Yarn Harlot
) so it was already ruined by my first row of knitting. I pulled the whole thing out. By the time USC trounced all over the top of poor ASU, however, I was on my way.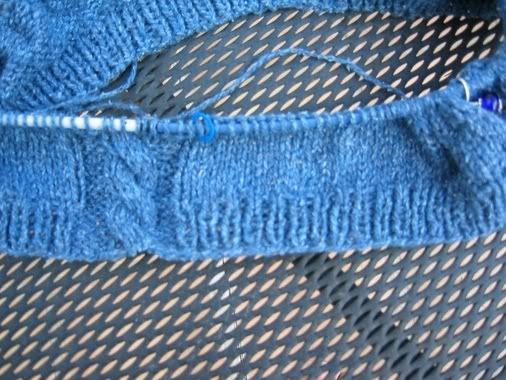 Now I have one additional math problem – I think my cable is still six stitches off. I started reading the bind off directions for the armholes, and I'm going to alter them and start binding off six stitches before the marker. I hope this doesn't ruin the vest – is it a small enough mistake? We'll see.
My kidsilk haze is beckoning to me from its small brown bag. I will not start anything with it until all Christmas presents are finished, but I take it out and feel it every now and again. If anyone has a good lacy scarf pattern for this lovely stuff please let me know. There was a cute one in that
Knitted Gifts
book, but I hate to buy an entire book for just one pattern. Here is the yarn, I took it out this morning to inspire me a little: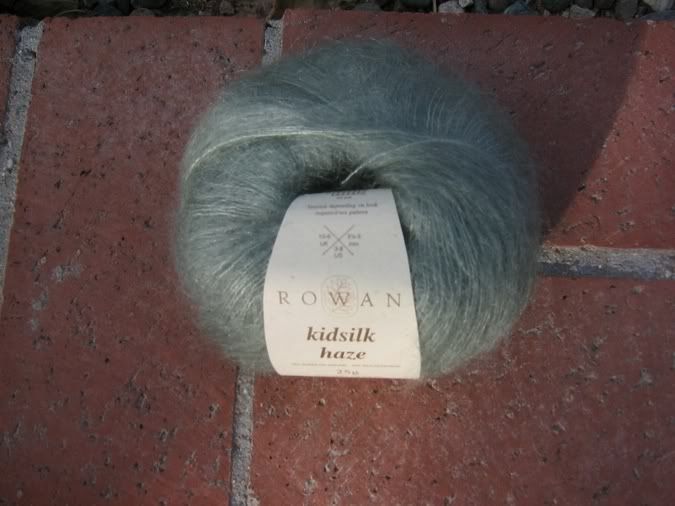 Today we are going to a wedding at noon – who gets married on a Sunday at noon? If it wasn't Edward and Amanda, who I love dearly, I wouldn't go. Especially considering my current condition. The best part is they don't know I'm pregnant. They are living in Hawaii so we haven't seen them in quite some time and I never told them. I have a feeling they will be quite surprised when they see me. (You may think this is a mean thing to do to someone on their wedding day, but Edward is notorious for not telling me things and then surprising me later. So I'm merely retaliating just a little bit.)
I'm continuing my list of 100 things about me. Here is 11-20:
11. I have two spoiled dogs who are going to be in for a shock when the baby gets here.
12. My husband cooks dinner for me every night.
13. I love to knit in the round.
14. I used to be a gardener until I moved back to the desert.
15. My brother is 35 and lives in Denver with his wife and 3 kids. I am often sad that he won't move here so our kids can grow up together.
16. I am a Taurus.
17. I love Italy, and would go back to the Amalfi Coast in a second.
18. I love the Opera. My husband started taking me when we lived near San Francisco and it was amazing.
19. I eat a brownie every day. I read it was good for the baby. This habit will cease once he is born.
20. I love flowers – fresh cut, dried, growing on the plant, any kind of flowers. They are just so happy.