Busy Weekend.....
We saw Pirates of Penzance Friday night. For those of you who don't know it, this is a musical about a band of gay pirates, a band of gay cops, and some women who I can only guess are men in drag because why else would the Pirates want to marry them? The singing was fabulous – I was very impressed with the lead woman (Mabel I think is the character) and the Modern Major General.
We had tickets from a woman who is on the board of directors for the Arizona Theater Company and they were great seats. (Except the guy in front of us was wearing too much cologne. I didn't realize people still wore Drakkar Noir – I had a flashback to my brother in high school. Ugh.) I think we're going to see Macbeth in May. I am a huge Shakespeare fan – I saw Midsummer Night's Dream by this same company years ago and was impressed. (Parley, this is where the line "I am amazed. I know not what to say" came from.)
Anyhow, that adventure took up our Friday night and Saturday night was spent at a wedding. It was another work engagement for Joe – seriously I think 75% of the guests were from his firm – so it was pretty tiring. I don't know when the tradition of cutting the cake so very late in the evening got started, but we had to leave before that event because I needed to get home to the baby. (I will spare you all the details of going six hours without feeding the child, but I will say it is extremely painful. I am still sore today.)
My parents watched the baby last night, and my mom brought over our finished quilt! It is beautiful, seriously some of the best work she's ever done. Take a gander: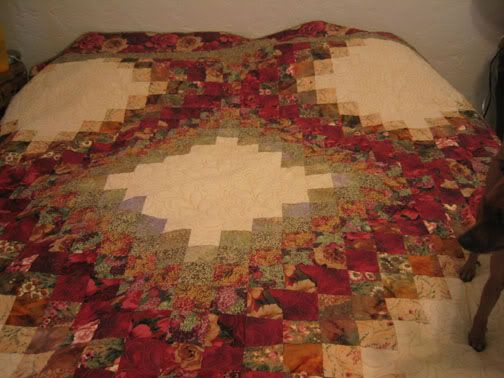 And here's a close-up of the colors.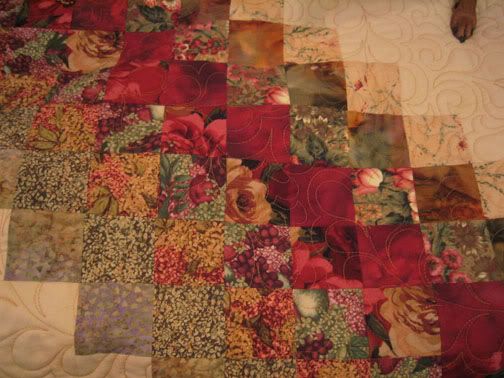 The fabric selection alone is incredible – just notice how the fabrics compliment one another and your eye is drawn to different areas of the quilt. She is a master that woman.
We are meeting at Pita Jungle today at 2 to knit. I don't feel up for it really, but I know once I get there I'll be glad I went. Tomorrow is at Lux Coffeebar at 10 but I might have to miss it for a lunch with my friends from high school.