Chunky Sweaters are Fun
The sweater is moving along nicely thanks to Joe watching over the baby a bit yesterday. I still hate the pattern but have figured out its quirks, so I'm keeping with it. The pattern people thought it would be fun to put instructions in three different places, and then have the row counts not be the same in the three places. So I ended up pulling out some rows because I missed a decrease row, but all is well now. I've got the pattern down and the yarn moves very quickly.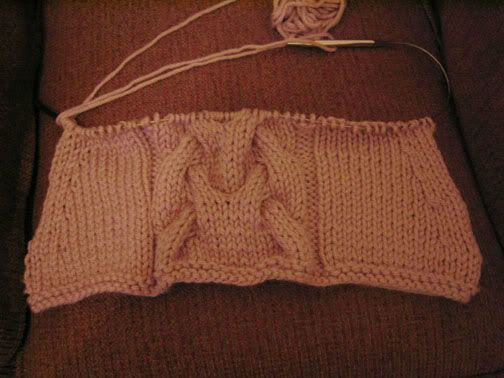 Clapotis is still in the bag, I'll probably work on it Tuesday night during the SnB meeting. I'm also dying to cast on for that Lush scarf, but I haven't come up with a pattern yet. I'll probably browse through my new Vogue Knitting before I find just the right stitch.
And I recently remembered the brown blanket I'm making and stuffed in a drawer in order to make my Christmas gifts. Guess I'd better get it out. It's made of Rowan Cork and has fabulous cables. I think it will look great in our front room but I'd better get moving on it before it gets hot again.