Stitch-n-bitch yesterday
We met at Mama Java's yesterday for some much needed after Christmas knitting. I brought Gloria and in true Stitch-n-Bitch fashion she barely got anything done. But she did get started on her scarf and I think it's going to look great. Kim brought Angus – he's just over 2 weeks old now and is just adorable: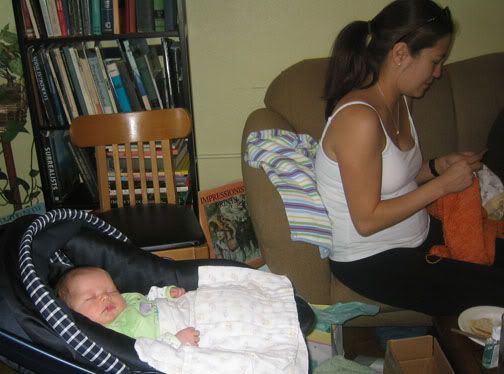 And Sherry's back! Here she is with our new member Julia. I love meeting at Mama Java's, it's so comfortable and nice.
Today a few of us are heading up to Jessica's. We'll be there around 2:30 if anyone wants to join us. I am only planning on buying a tapestry needle – for some reason I can't find any of mine and I need to finish weaving in the ends of my dad's vest.
I cast on the Debbie Bliss Cashmerino Chunky yesterday. I only knit three rows because the cable pattern started after that, and we all know I can't do anything difficult when I'm knitting with other people. It is the softest, most beautiful yarn I've ever had in my life. I think I'm really going to like this sweater when it's finished.