The Curse is Lifted
Even if you aren't a sports fan, you have to appreciate the Red Sox win last night. I am mostly in awe of the fans – 86 years is a long time to go without a championship and still be interested in a team. People in Arizona couldn't care less about the Diamondbacks and they just won a few years ago.
I got a lot of knitting done during the game – three more cable twists on the sweater vest. I hope my hands continue to cooperate though, as they are swelling more each day it seems. This morning I couldn't even make a fist with my left hand. I think they get worse when I sleep. I will keep knitting however, because at this point it may be the only thing that keeps me sane until this crazy baby arrives.
Today we planned a trip to the Fiber Factory because Julie had a doctor's appointment in the afternoon, but she went yesterday instead so we get to go to Jessica Knits. (Jessica's is really far, you have to make an afternoon out of it.) I'm excited because she's never been there AND she gets to pick out an entire new project. So far she's made a baby blanket and a sock and a half (another reason we're getting together, she needs help with her second sock.) She's not sure what she wants to make next, but I know she'll find something wonderful. Felted bag? Fuzzy scarf? Cute sweater? The opportunities are endless.
The rain finally showed up this morning around six and it's actually almost cold outside. 54 degrees! I might even wear a sweater out. Although it's supposed to get up to 70, so that may be pushing it just a little.
Here's what it looks like outside our front door right now: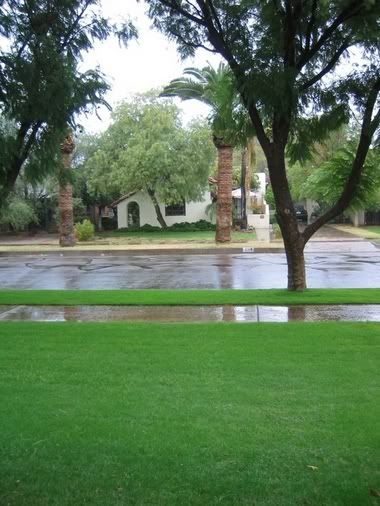 and our poor little pumpkins getting wet: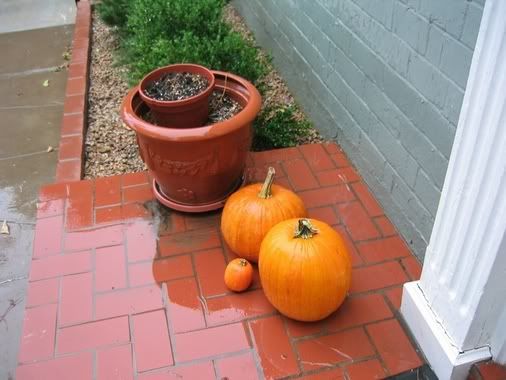 I went to the doctor yesterday and so far no progress towards labor. He seems to think it will be at least 3 more weeks. Ugh. There is just no more room for this baby to grow – I think he needs to come out earlier.
I'm still liking my lists, so for today I give you:
Ten Great Movies to Watch While Knitting on a Rainy Day
The Godfather
An Affair to Remember
Ferris Bueller's Day Off
The Lord of the Rings
Love Actually
To Kill a Mockingbird
Doctor Zhivago
Roman Holiday
Casablanca
Heathers