It Looks Like They're Knitting
Teaching 5th graders is HARD. Any of you out there who teach grade school, I give you a standing ovation. Out of the five I taught, two figured it out and one of those already knew how to knit. They don't sit still and wait their turn to ask for help like adults do. They sit and say "Ms. Brooke! Ms. Brooke! Something happened!" or "I don't get it!" or "This is too hard!" It didn't help that we haven't received our yarn yet (I ordered some bulky weight from Smileys), so we were using stuff they brought from home. Apparently Red Heart is the favored brand amongst the mothers of Mesa. And their needles were all too long. Hopefully next week, with better tools, we will be more successful.
Here are a few pictures of my students: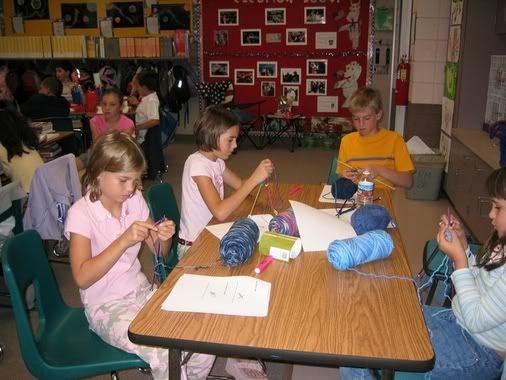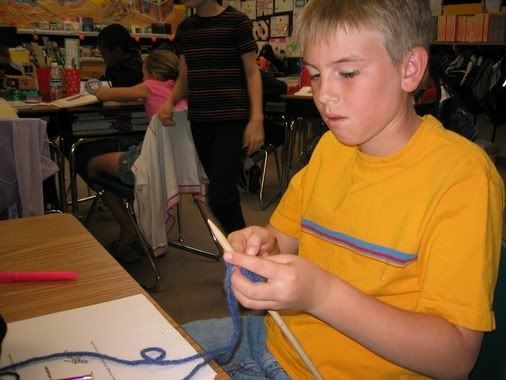 I learned a lot about teaching younger people. I will be much better prepared next week when we have some better yarn. This project is going to take a long time!
I left the school to have lunch with Parley. I can't fathom why he reads my knitting blog, but he does. It seems it would be very boring to someone who doesn't know knitting at all, but who I am to judge?
Then I headed to Jessica Knits. I seriously love her store. I just sat and knit with two other ladies for a while, one who was making a cabled blanket out of three yarns held together on size 17 needles. It was absolutely gorgeous and pretty expensive – I'm guessing she spent around $650 on yarn yesterday. The other woman was doing a felted bag, and she and I discussed the merits of bulky weight wool. She was using a Lambs Pride Red that was going to turn out great. It was fun to just hang out with people I didn't even know and talk about knitting.
Another girl arrived – Emily – who had applied to teach there as well. The three of us sat and talked about the specifics of the classes and what Jessica's vision for the future is for the store. To begin with she wants both of us to teach a 2 hour knitting introduction where the people just learn to cast on and knit. I'm waiting until after the baby is born to do my class because at this point I can go into labor at any minute. But Emily is going to start on Saturday and I'm going to sit in her class to see how it goes.
The only bad thing about the whole meeting was I have to learn to throw my yarn! I have always knitted continental, it just seems natural to me. Jessica wants everyone to learn the same way, so we will be teaching long tail cast on and yarn throwing. I'm sure I can figure it out, but my first attempt felt very awkward. It will help sitting in Emily's class while everyone learns this method.
I was up there for over four hours, and by the time I got home I was ready to collapse. I have tried not to be one of those pregnant women who lie on the couch and order their husbands to wait on them hand and foot, but last night was a bit exception. Joe went out to get me a burrito for dinner, then he did the grocery shopping, he bought me some Pralines and Cream at Baskin Robbins (yummy), and he rubbed my feet. Thank you Joe, I'm feeling much better today.
On the knitting agenda is to finish Vincent's hat and keep working on the scarf I don't like. Has anyone made an illusion scarf out there? The back is just yucky looking – did you sew fabric on it to cover it up or anything?
Here are ten more things about me, it's getting close to 100!
71. I drive a Mini Cooper. It's velvet red. You can see it in the background of this picture.
72. I don't really enjoy holidays, although I'm guessing they will be more fun with a kid around.
73. I think birthdays are more important than holidays.
74. My birthday is May 18th.
75. I don't wear very much jewelry. Right now I don't wear any because my stupid fingers look like Vienna sausages and my wedding rings don't fit.
76. I have long hair and I want to keep growing it. Sort of the earth mother look.
77. I don't trust people who are too nice.
78. I think Fear Factor is the dumbest show ever.
79. One of the best books ever written is
The Secret History
by Donna Tartt. I think her second book, Little Friend, was bit of a disappointment.
80. I really like fancy gift wrapping. I sometimes spend more money wrapping a gift then I did on the gift itself.