Kim had a baby boy!
Angus William Dallas was born yesterday afternoon at 2:52 p.m. He was 8 pounds 4 ounces and 21 inches long. I spoke with Kim last night and she sounded really tired, but very happy to have the baby here finally! Here he is: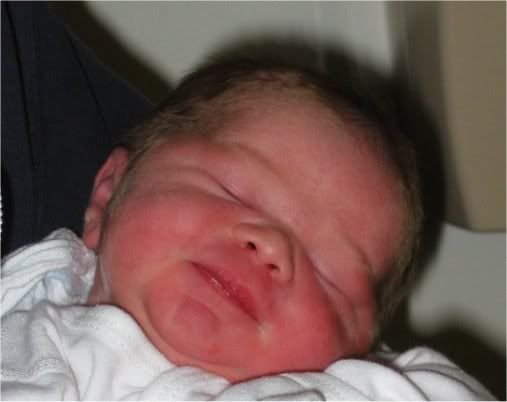 I'm so excited she had a boy too – now we have three boy knitters to hang out with our SnB friends.
In other news, I ripped back the sweater vest to the armholes and adjusted them so the cable is now centered. I am back to knitting up the back – 11 inches of it, and then on to the front. I think I will be able to get it done in time for Christmas, especially because I finally figured out how to nurse the baby and knit at the same time. It only works with
this pillow
or a sling.
And one more news item. My yarn suspension has been temporarily lifted! I am going to Jessica's this week to find a new project and make myself something wonderful. I'm thinking I want to knit with Lorna's Laces of some type – her superwash wool is so soft and beautiful I can't get over it. Or maybe Debbie Bliss Cashmerino Chunky. Or maybe something for the baby.