SnB Holiday Party
The holiday party was a smashing success! Great job to Kim and Alison for finding such a wonderful place, and thanks to everyone who brought food and drink. I was so glad to be there and see all my friends – I feel like the past few weeks have been a blur, but seeing everyone made me realize the world is going on without me, and I'd better get back on board.
Southwest Trading Company
was just amazing. They had their new line of fibers out to show us, they did a fashion show, and they sold some discontinued items as well. They were friendly and interesting and I was so happy we decided to have our party there. They asked us all if we were interested in being test knitters for their patterns. They supply the yarn and pattern and you give your feedback, AND they give you additional yarn to make your own item. I signed myself right up. Are you kidding me? Free yarn?
Here is my mom and Jack standing behind a table full of people: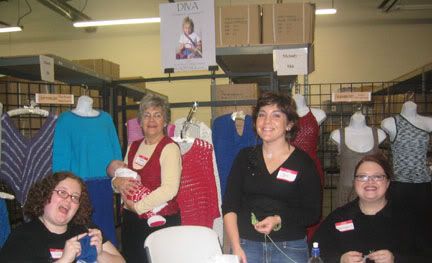 And here's Pam smiling because she complains I always take bad pictures of her. (And Pam, I think the shirt is very cute. You looked great for being so sick!)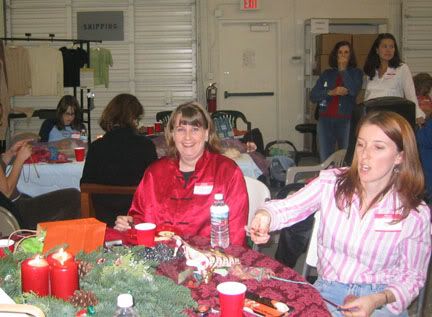 More from the same table with the cookies in the background: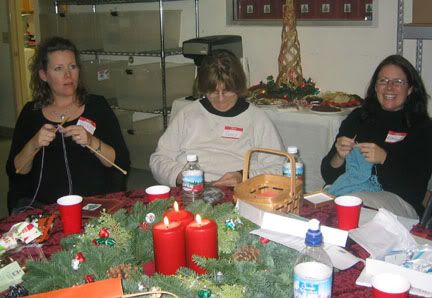 And we had a spinner!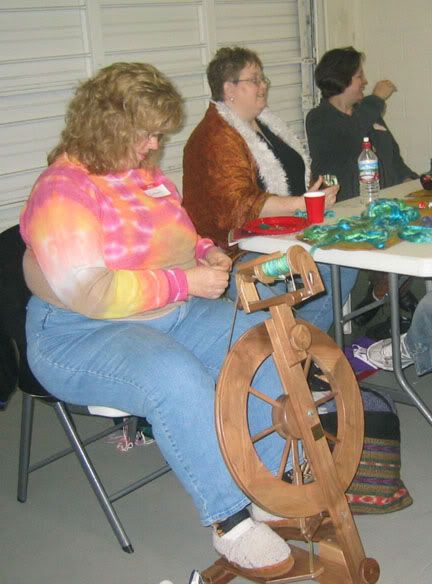 And some people I didn't recognize, but they were very nice: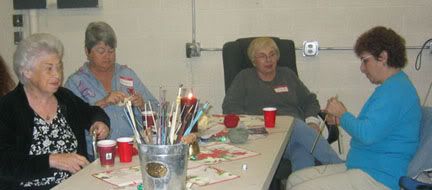 Kim still hasn't had her baby, poor thing. She was due Monday and we all expected her to be in the hospital by now. She's set to be induced this weekend, so I'm hoping she goes into labor on her own before that.
It has been a wonderful year for us knitters. I am glad to have this group of women as my friends and it makes me happy that our group just keeps growing. With the committee in place and Kim's wonderful leadership I think next year is going to be spectacular. Especially once I get to knit again!