I've been RAOK'd!
I belong to this web group called RAOK (Random Acts of Kindness). I joined right before the baby came and haven't been able to keep up a ton with the group – there are 150 members – but I do read people's blogs and comment from time to time. The idea is that you send gifts to random people in the group. Sometimes people send e-cards or gift certificates via email, but other times people do amazing things like buy you some yarn, go to the post office and send it to you. My first package arrived in the mail yesterday from
Nancy
. Here it is: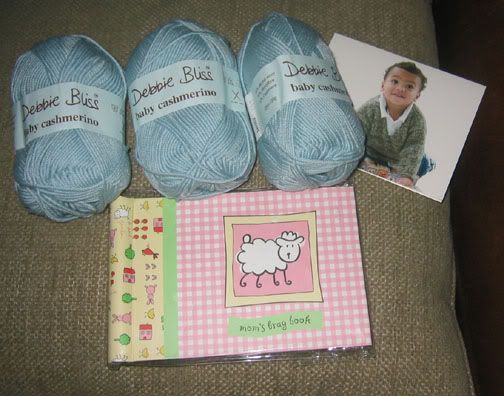 3 balls of Debbie Bliss Baby Cashmerino, a pattern for a baby sweater, and a small photo album for Jack. I am speechless. (Ok, maybe not). Thank you thank you thank you to Nancy. I have never met her, but she grew up in Phoenix (as did I) and now lives in the Bay Area, where I just moved back from a year ago. If you click on her name above you can visit her blog.
Jack and I took a trip to Jessica's yesterday. Here he is with Lily, Kiki's daughter: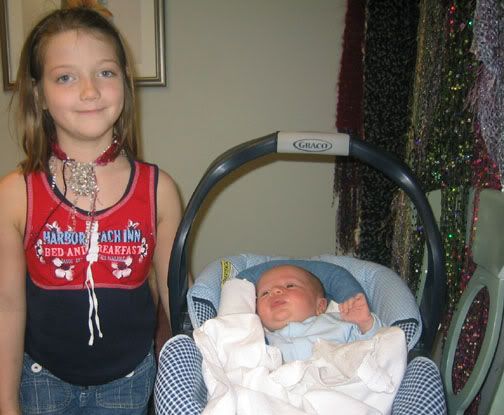 She was very helpful and watched over him while I shopped. (Although when I was having my yarn wound some strangers came over and touched him. ARRGGGH. It's just a horrible thing, touching a baby.)
I bought some Lorna's Laces yarn – not the $30 a ball recommended by the Clapotis pattern, although that yarn is beautiful. I just got the regular kind, but it's still soft and wonderful. Here is a picture: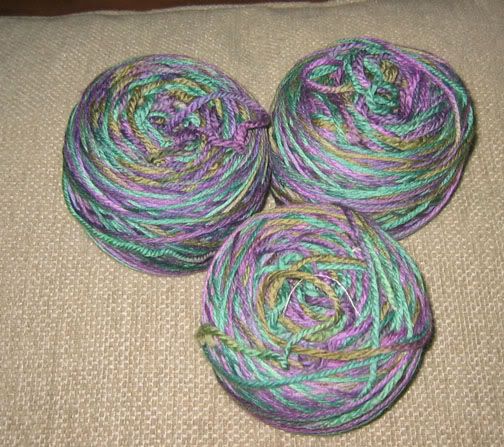 Of course this yarn sits in its bag taunting me until I finish the vest. It is due today – my family is celebrating Christmas this evening because my parents leave for Colorado tomorrow morning. There is no way on gods green earth I am going to get it done. Darn. I should be able to have it finished by the time he gets back on Monday.