Sooooo Close
I am so close to finishing the vest – I think I will be able to give it to my father when he returns from Colorado tomorrow.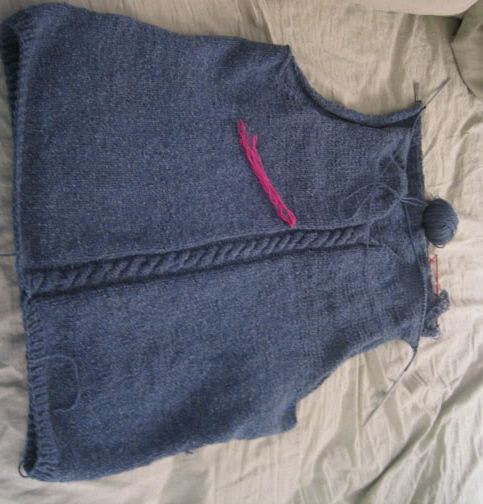 The gifts I sent to Colorado were quite a hit. Here Greg and Vincent pose with their skull hats: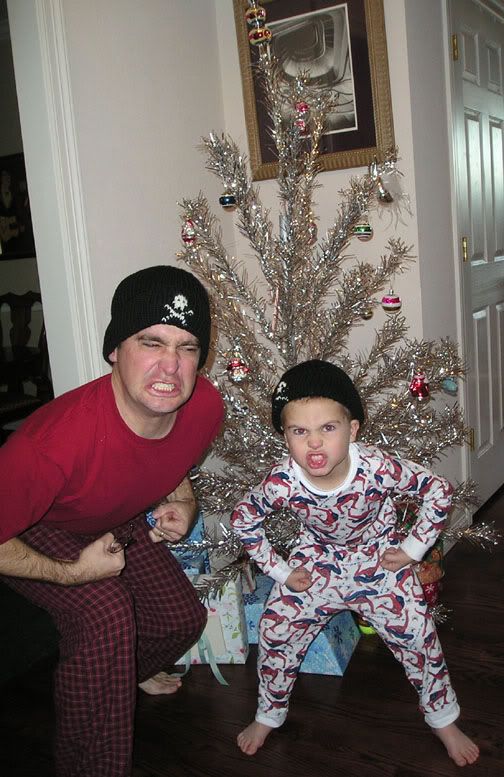 and the entire family in knitted gifts: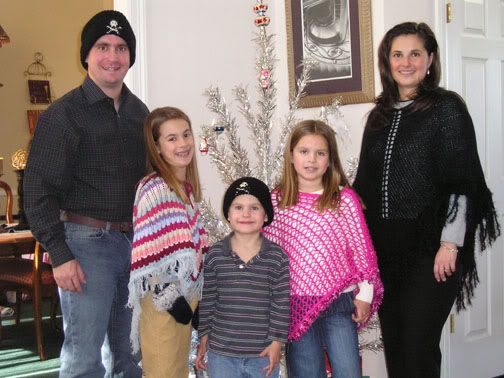 Anne's poncho (far right) looks great on her – I'm very pleased with how it turned out. The Yarn Harlot's pattern is fabulous. And Madeline (in pink) sent me an email that she was going to wear her poncho every day. Apparently the fur on the edge was quite a hit.
I have such a sense of accomplishment looking at this picture – I really can't believe how great everything turned out. I am making Greg another hat though because he said his is a little big. I made it big on purpose because he has a big head, but apparently I got a little carried away.
For Christmas I got Vogue Knitting and the new Stitch n Bitch book. Vogue Knitting was from Joe's uncle – he drew my name in the family gift exchange. I could tell he thought it was a bizarre gift but he was happy I liked it. Apparently it was the last one in the store!
My Stitch n Bitch group is meeting Tuesday during the day and I'm really looking forward to it. By then I will have started my new projects and will spend time just relaxing with my friends. Gloria is coming as well since she is still off school and we're going to get her started on her scarf.
I am so glad Christmas is over – it was stressful and exhausting. I even got a fever blister last week from all the craziness and lack of sleep. I may not do a single thing this week – as it is I am still in my pajamas now and it's almost 2 in the afternoon.