10 Days to Clapotis
I just read the
knitty.com blog
. She (meaning Amy) completed Clapotis in 10 days. On January 1 she posted about how much she loved the pattern. Today she is done. There is photographic evidence even.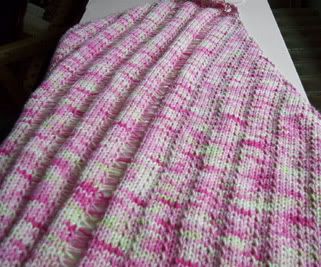 I'm not even to my 84th row (the end of the increasing), and I may have to do more rows because I'm using smaller needles.
You know, this new kid is really getting in the way of my knitting. I would be done by now if it wasn't for him. And do you think he will appreciate my sacrifice? I doubt it. If he wasn't so darned cute…..
Nancy
mentioned on her blog that she is interested in doing the
Breast Cancer 3 day walk
in October. She's worried that when she moves out here she wouldn't have a buddy to complete the walk with, and I am pretty confident we could get a group of knitters interested. The downside is you have to raise $2100, but from what I've heard it's a truly amazing experience. If anyone is interested email me and maybe we'll get a group together to train. It's 60 miles total (20 a day I'm guessing), so I imagine you need to do a lot of walking to prepare. There is an orientation session next Wednesday in Tempe – maybe we can get a group to go to that as well.
We met at Lux yesterday for some knitting and coffee (or tea for me). I love the smaller knitting groups – it's so much easier to talk to people. I found out that Illanna is in the tourism school at ASU and she wants to be a consultant for hotels. I learned that June has been through some incredibly tough times and come out a strong and successful woman. I learned that Mary Lou works at the Lincoln Learning Center and is going to teach the kids to knit. And I saw Mel's Manos pillow – really lovely.
I'm off to Fiber Factory this morning for a double-secret knitting project. They open at 10 and I have to be back here by 11:30 for lunch with my parents, so I don't have a lot of time.