What wine goes with Beenie Weenies?
Sunday afternoon, 3 p.m. Husband runs off to work to clean off his desk for the week (a practice I respect in him) and baby is fed and happily cooing in his chair. I didn't go to knitting, I'm too darned tired. So I made my own version of Beenie Weenies (organic baked beans and cut-up turkey hotdogs from Trader Joe's), and consulted the fridge for the appropriate beverage to accompany my afternoon snack.
Kim Crawford
Pansy stared out from the bottom shelf. Perfect. I continue to contend there is the right wine for every mood.
I am sorry I didn't make it out to knitting yesterday. Jack and I were both still exhausted from the weekend and he was doing weird feeding things. Like eating, falling asleep for a while, eating barely a little more and falling asleep for a long while. Not his normal pattern to say the least. And today he's still eating weird so I may be staying in yet again.
I knit four rows on my sweater. That doesn't sound like much but any progress is good in my opinion. I probably won't get to wear this sweater until next winter (or over the summer if we go somewhere cold). It's going to take some time to finish and I'm making it in my normal size, not this nursing-goddess size that I am today.
Shannon and Illanna both mentioned it looked like the Marilyn Sweater from interweave. I looked it up online and indeed there is an uncanny resemblance: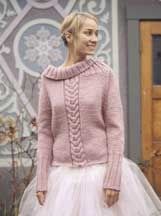 The neck is different and the cable is a little different, but this picture uses the same yarn I am using. I think I might steal the sleeves from this pattern because I like them better than just straight stockinette.
Knitting at Lux Coffeebar today at 10 – we'll see how the little guy behaves and see if I can make it!