We are far too young and clever
Do you remember this line from the song "Come On Eileen?" It's by far one of my favorite lines to a song and I heard it on the radio yesterday driving home from our mini-knitting meeting.
We hung out for a few hours at the Coffee Plantation at the Biltmore Shopping Center. It was a lovely day for sitting outside, knitting and chatting. There were only four of us – me, Jen, Pam and Melanie – and it was a good size. Usually our groups get so big it's hard to get anything done. I finished another few inches on the vest, Jen started a hat and got pretty far, Pam got a ton done on her felted bag, and Melanie solved a cable problem on her baby hat.
If you can believe it, I forgot to take pictures.
But I did get pictures of our Jack-O-Lanterns. Mine is the one on the left, which only means I drew the face on it. Joe was nice enough to do all the carving this year, I just couldn't get excited about wielding a sharp object. The little one is the fetus pumpkin for Jack – it has a face, it's just not quite carved yet.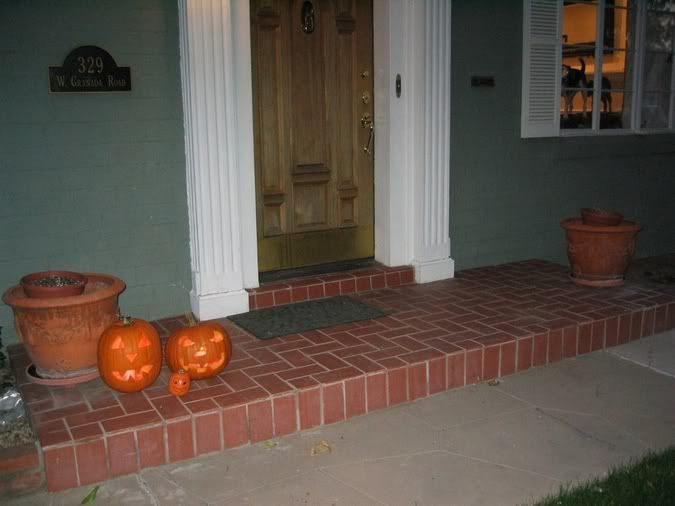 You can see the dogs in the window. Halloween is not their favorite holiday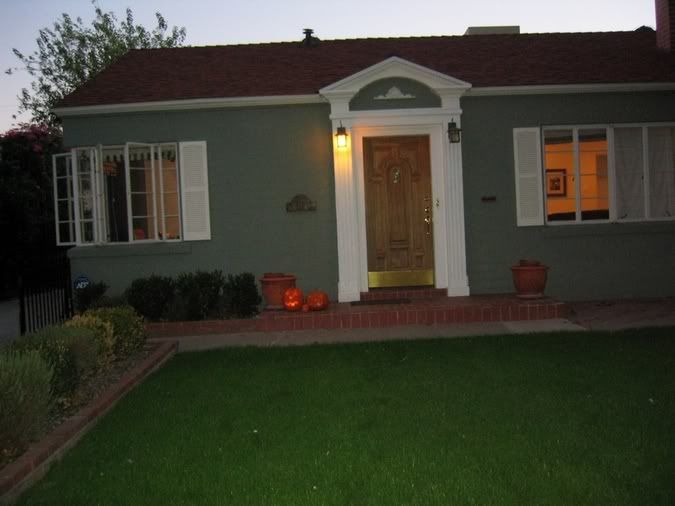 This picture is crooked. I must be having trouble with balance.
We bought a ton of candy, mostly because I wanted a lot of leftovers. But by 7:30 we ran out. There were 8 million trick-or-treaters on our street, I could not believe it. We shut off the lights and hid in the back of the house after we ran out, and still two people rang the doorbell. (Don't people know the Halloween etiquette? If the lights are off, don't ring the bell.)
There was one little family that just about broke my heart – they didn't have a single costume between the three boys, and you could tell the mom was tired and hoping no one would point this out. The bags they used were from the evil empire (Wal-Mart) and they only took one piece of candy each, so I gave them an extra. I wanted to bring them inside and find them costumes. I know there are a lot of charity organizations that help families for Christmas and stuff, but maybe we need one for Halloween.
Becky starts her new job today, and I know a lot of our knitters are excited to go check out her new salon. Good luck Becky!
Today I should get a lot of knitting done. Nothing is on the agenda other than a massage and pedicure, both of which I need desperately. My toes resemble the claws of a gargoyle.
The list today will be lines from songs I like. Joe is often amazed that I know every word to every song that comes on the radio, even songs I don't like. I think that's why I never got into certain types of music where you can't tell what they are saying. For me, most of the music is about the lyrics.
"There was a table set for six and five were there. I stood outside and kept my eyes upon that empty chair." – Indigo Girls
"Even the dust devils pray that they'll catch her eye." – The Peacemakers
"Where is my John Wayne? Where is my prairie son? Where is my happy ending? Where have all the cowboys gone?" Paula Cole
"I could hide out under there. I just made you say "underwear". I could leave but I'll just stay. All my stuff's here anyway." - Barenaked Ladies
"There she was, like double cherry pie. There she was, like disco super fly." Marcy Playground
"Is she smart? So well read? Are there books, are there novels by her bed?" Natalie Merchant
"If your bottle's empty help yourself to mine. Thank you for your time. Here's to life." – Refreshments
"I'm as dark as December. I'm as cold as the man on the moon." – Sting
"And they tell me that women grow on trees, and if you catch them right they will land upon their knees." – The Housemartins
"So you found a girl who thinks really deep thoughts. What's so amazing about really deep thoughts?" - Tori Amos