Cheap Yarn???
Did you see this
yarn
??
I can't believe how cheap this yarn is considering the ingredients. (Is that the right word, ingredients?) Has anyone bought this yarn yet? $2.29 for 123 yards of Merino Wool just seems awfully inexpensive, so it makes me think there must be something wrong with it. And the silk/alpaca blend is $3.29 for 110 yards. Did these people steal the fiber from somewhere?
The sweater for Angus is ALMOST done. My mom is going to help me put in the zipper on Thursday. I love this pattern and I think I might make one for Jack, but in a different color. All I have left is to put a border of navy where the zipper goes and sew on the sleeves and it will be done!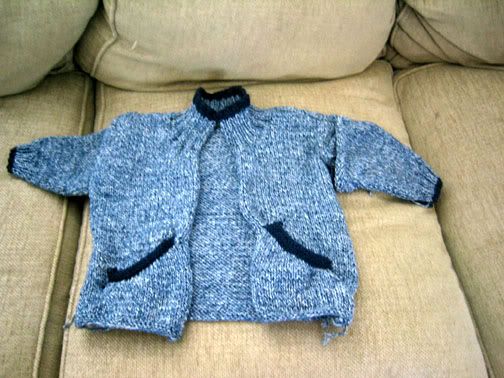 The orientation meeting for the 3 Day Breast Cancer Walk is tonight and I will have all the info we need tomorrow, including ways for people to donate if they are so inclined. If you want to go to the orientation, it's at Tempe St. Lukes on Mill at 5:30 p.m.
Also tonight is another SnB meeting at Mama Java's. I plan on being there after the orientation if Jack cooperates. (and if I'm not too tired. Right now I feel like I'm going to die I'm so sleepy, but that may change. Maybe I'll get my second wind.)
My brother commented that he doesn't think I produce very much knitting. Ouch. I don't know what he was expecting, but my finished project list is pretty minimal since you-know-who arrived on the scene. Maybe when he leaves for college I will have more time to knit again.