The Little Professor
My double secret project is coming along great – if I knit all day today I may get it done. I haven't touched Clapotis or my cabled sweater all week because I've been working on this, so no pictures. (this is the worst part about knitting something for a person who reads my blog - I can't post my progress!)
I do have a picture of Julie's baby Mack wearing the sweater I made him for Julie's shower. I think it makes him look like a little professor: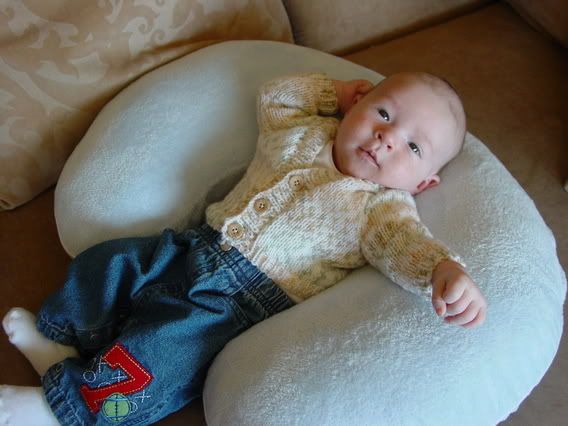 I talked to Kim last night and she is sick! This is one of my biggest fears, because I can't imagine taking care of the baby and being sick at the same time. And Kim has a 3 year old as well. Luckily her in-laws are still in town and can help her, but it's still rough. Of course I felt like I was getting a sore throat last night so now I'm doing a wellness dance and hoping I didn't catch anything.
Our walking group continues to grow - here are the walkers so far:
Julie
Shannon
Eva
Heather
Nancy
Parley (no, you don't have to be a girl to walk!)
Nancy had a great idea to sign up as a team and have a name. I have a contact in the t-shirt business so we can have shirts made, and she also suggested we all knit pink scarves while we walk!
I'm so excited, this is really shaping up to be a fun group. Nancy's suggestion for a name is "Knit One, Walk 3" or K3tog, both of which I think are cute. If anyone has other ideas let me know and we'll decide on our name.