Secret Project Revealed!
Did you know
Melanie
had a blog? I didn't. I've added her to my sidebar and my bloglines, so now I can keep up with another SnBer. Too bad Kim refuses to write a blog, huh? Julie too. How am I supposed to keep up with people if they don't have a blog?
Yesterday we met at Coffee Rush in Chandler for a little MLK day knitting. I unveiled the double secret project – a jacket for Kim's son Angus. Of course it's not done, but it's going to be super cute. The yarn is so soft, I really wish Debbie Bliss would make this yarn in solid colors.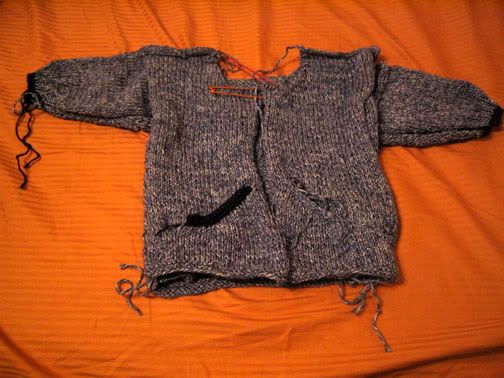 It's no wonder my laundry isn't done, all I've been doing is taking care of the boys and knitting!
I still need to finish a pair of socks for my mom. I should do that before I go back to Clapotis and the cabled sweater.
Tomorrow night is the orientation for the 3 day walk and then we have another SnB meeting at Mama Javas. I put together a t-shirt for review – we can change the words on the front, but I thought it would be cute to have our names on the back like football players. Also I picked red with pink writing because I think almost everyone wears pink.
Click Here
to see the shirt I picked.
The boy was up most of the night – I don't think I'll be knitting much today. Hopefully I can take a nap here in a few minutes when Joe gets up. I'm so tired the backs of my eyes feel like someone rubbed them down with a nail file.