Maybe knitting is a cult?
Not only did every single fifth grader learn to knit yesterday, so did my mother in law, Gloria! I taught her on recess and she picked it up very quickly. Tomorrow I'm taking her up to Jessica Knits to pick out a scarf project and get her started. (If anyone wants to join us we'll be there about one). She called last night with a "yarn emergency", a comment that made Joe roll his eyes as he handed me the phone. I couldn't diagnose her problem over the phone, so I'll have to take a look tomorrow. She could be knitting through the wrong side of the stitch, but I'm not sure.
The kids were very excited to finally get knitting. Apparently it's become quite the fad at their school, and everyone is carrying around yarn at recess and lunchtime. I think they should start a club for after school because they all want to make things now other than squares.
Our first finished "square" is displayed here, by Christian: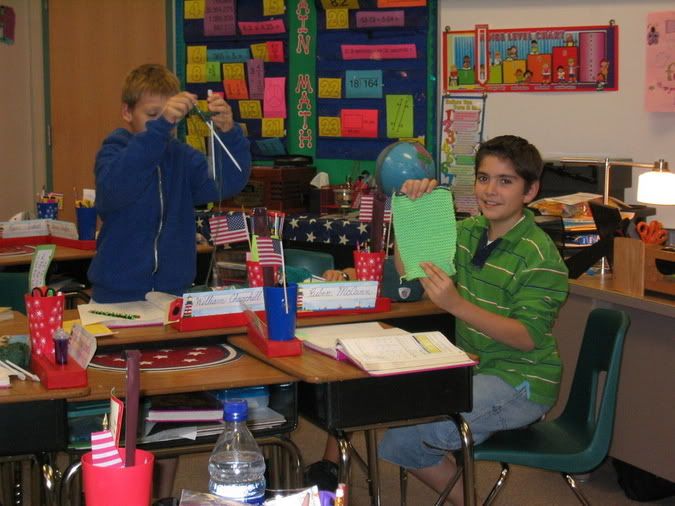 And here is Gloria learning: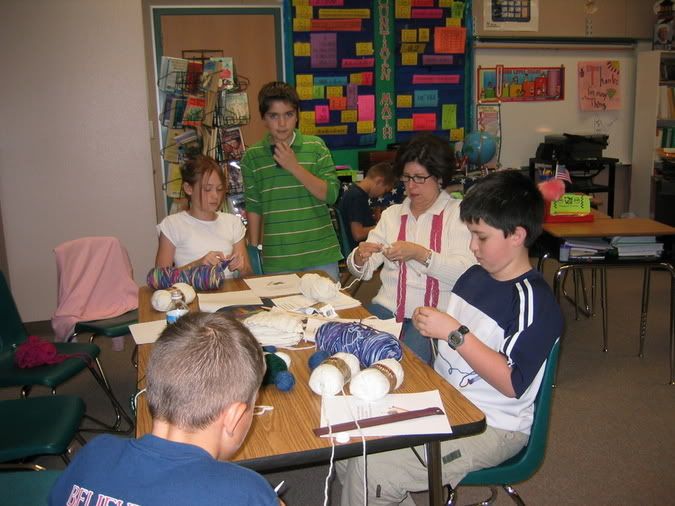 And Nick, who talks nonstop about how hard it is to knit and has a gauge that resembles lace even when he's knitting stockinette: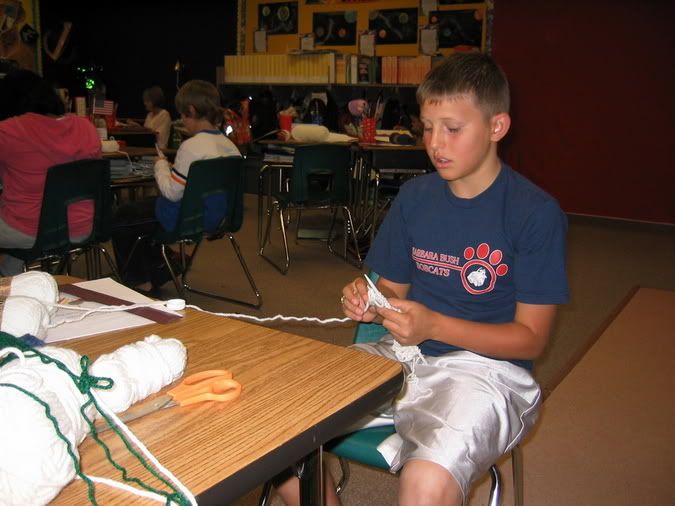 Luckily for me, the mother-helper from last week did not show up, so I didn't have to contend with her condescending to the kids. She would have gone crazy with some of the squares that were occurring – holes everywhere, dropped stitches, weird loops. Sometimes I couldn't even figure out how to fix their problems, so I would knit them a new row to have clean stitches to work with – I thought that was better than make them rip stuff out so soon.
The vest is almost to the armholes, and I think it will go very quickly from there. Then just a few secret projects and the holiday knitting is over! Oh, wait, except for the illusion scarf. Damn.
Joe and Parley go to "Daddy Boot Camp" today, where they learn how to care for a baby. Since neither one of them has any experience with kids it should be very interesting, I just wish I could go and take pictures. Joe was attempting to get out of it by saying he remembered helping his aunt take care of his cousin Philip, and he knew about cleaning the umbilical cord. Philip is a Junior at Notre Dame, so I don't think that experience was recent enough to help much.
Apparently the Wendy Knits/Dishcloth Queen battle has reached a stalemate. Dishcloth password protected her site, so no more people can comment on her meanness. Comments on Wendy's blog have reached astronomic proportions. Ah, c'est la vie. I'll have to search for my daily dose of angry banter elsewhere.
Now that my Christmas knitting is almost complete (okay, not really, but sort-of), here is a list of things I want to knit for me me me me me.
Elfin, from Rowan 34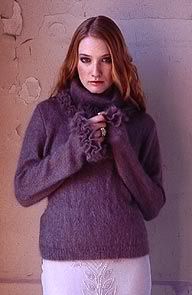 Polkadot sweater, also Rowan 34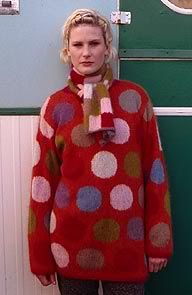 A big felted bag with diamond shapes. I don't have a pattern, I'm just imagining this in my head.
A pink sweater out of Cashmerino Superchunky. When I was in a car accident about 10 years ago, the firemen cut off my favorite pink sweater. I have never found a replacement, so maybe it's time to knit one.
Christmas stockings – I know this isn't technically for me, but I'm really the only one who cares about decorating for Christmas, so it kinda fits.
Some type of cute cabled hat, probably out of Baby Casmerino. Or maybe Calmer.
Mittens
A cover for my stick shift – it gets super hot in the summer and freezing cold in the winter, so it needs a hat. Oddly, a preemie hat is just about the perfect size.
Something out of Lorna's Laces superwash wool, maybe a scarf.
A cute poncho that will be useful for nursing the baby in public. I know ponchos will go out as quickly as they arrived, but I still think I need one.