What, no knitting?
I went to visit Julie yesterday afternoon. No surprise, she wasn't knitting. The entire family was exhausted – little Mac only woke up to protest being moved, and then he settled into my arms happily. Once my mom got there I handed him off: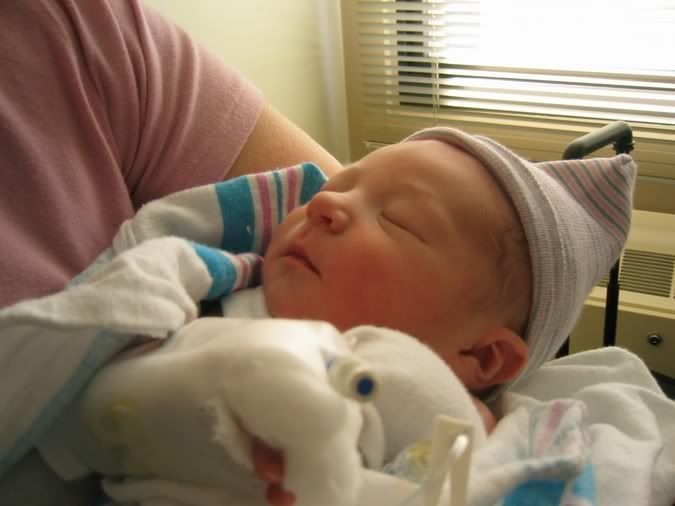 Both mom and baby are fine but tired.
I finished a secret project last night and it's currently blocking in the bathroom. I just have to weave in the ends and we're set. The vest is moving slowly now that I've divided the arms and have to work stockinette without the benefit of knitting in the round. So of course I had to cast on another secret project that was a little more challenging – I think right now I'm using knitting to distract me from my impending childbirth challenge.
I may see if people want to get together to knit tomorrow night. We have a SnB meeting on Friday but I can't make it, and I want to work on this vest. If anyone is interested let me know and we can pick a place.
Gloria called me last night to tell me one of the boys in her class made a hat for Jack, and another boy had finished two squares over the weekend. I think the project has been a great success so far. I hope to make it back Friday and see how they are all doing. Eventually we'll need to sew up all these little squares and finish the blanket. Ugh. I hate finishing.
Many of you know how I feel about mixing politics and knitting. Yesterday on the Knitty.com blog Amy had an entire post about crying over the election. This is a published author and business woman who puts out a knitting magazine four times a year. (A magazine I love, mind you.) Why is she bringing politics into her blog? I don't read her entries to find out how she feels about George Bush, I read them to learn about interesting patterns and yarns. If I want to hear about the election and how the poor democrats are mourning all over the country I would read political blogs by people who have a little more experience and information on the topic. I am very disappointed in her.
Kim and I had lunch yesterday in Chandler since I was going to be in the area. She suggested I make a list of my favorite restaurants in Phoenix – I don't eat at chains if I can help it, and encourage people to branch out when they consider going out to eat. There is so much good food out there, and I guarantee you none of it is found at the Cheesecake Factory.
My Favorite Phoenix Restaurants:

Pizzeria Bianco (You have to wait forever, but it's worth it)
Eddie Mateney's (A brilliant chef. The food is somewhat Mediterranean.)
Christopher's Fermier Bistro (Wines by the glass list is great, food is French, the bread will make you cry it's so good.)
Vincent's on Camelback (If you don't want to throw down a million dollars for dinner, try his market on Saturdays. He serves sandwiches, omelets and crepes, along with various other dishes. But dinner is worth the money, especially if you get the rack of lamb.)
Rancho Pinot Grill (I haven't been since we moved back, but I have great memories of this place, both food and ambiance wise. I love a place that decants wine.)
Bario Café (Very crowded, noisy, and oh so good.)
Efe's (Turkish food, which I didn't even know what it was until I went. Incredible food, but be careful not to eat too much pita ahead of time.)
Carolina's (Incredibly cheap Mexican food, and the best tortillas you will ever taste in your life. The interior resembles an industrial cafeteria)
Mi Patio (Also Mexican, also cheap, but more traditional sit-down food.)
Cherry Blossom Noodle Shop (Interesting mix of Asian and Italian noodles. And the bread basket they bring has banana bread, which is pretty random. But very yummy food)